Quincy, Fort Dodge, Oshkosh--they were great fun, but the 2005 Georgian Bay SeaRey Gaggle was about to begin, and it was time to move on. Sunday, 31 July, 2005, I flew north to Beaver Island, in the north end of Lake Michigan.


On the way I stopped at Shawano, Wisconsin, at 3W0 (which has a water runway as well as pavement), hoping to meet up with my old army buddy, Tom Rudesill, whom I hadn't seen in um 48 years. Alas, it didn't work out--for the second year in a row. But here's a photo that Tom took with my camera a long time ago in a country far away:
We worked together, Tom and I, at A-33, an army aircraft maintenance depot in Korea, repairing aircraft radios. For nearly a year I slept in the bunk above his. One day I asked if his ancestors had come from Italy. He laughed and said he was full-blooded Menominee (I think) and I was damned lucky he hadn't scalped me yet. He was the gentlest, kindest, most thoughtful guy I knew there.
We often hiked in the barren hills surrounding the airfield, and one day we met a farmer trudging along with his A-frame. He let us try it on and we gave him a pack of cigarettes in return. At that time, all of the trees had been cut for fuel, and even the grass went for fuel as quickly as it grew.
I knew another G.I. in Korea who used to brag how he had stuck a lit cigarette through a pack of matches to make a time fuse and flipped it out of a deuce-and-a-half onto a huge load of straw that a farmer was carrying along on his A-frame. He seemed to think that was really funny.
Here's a recent photo of Tom, cropped from a group shot that he sent me last year.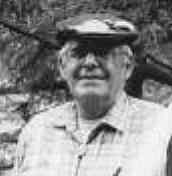 Maybe next year...
All right. Onward now-- north to Beaver Island, in the north end of Lake Michigan, about halfway between Manistique and Charlevoix, Michigan.
I crossed the lake, about 30 statute miles, in rather thick haze, keeping low enough to see the water looking almost straight down. Otherwise it would have been hard to tell which was was up. It would have been No. Fun. At. All. in a landplane, but in the SeaRey it merely required a little care--because if the engine had quit it would have been easy to set down on the lake and use the marine radio to find help.
This is looking west (the next day), back toward Wisconsin, from the deck of the house of John and Sandy Gerrish--whom Carol and I first encountered when we were neighbors in Lagos, Nigeria, back in 1963. The land on the horizon is another island. The mainland is another 25 nautical miles beyond it.
And here's who were watching the sun set that evening:
John and Sandy, flanked by the first violin (Barbara? sorry--not sure now), and some guy who's better left unnamed. (The camera took the picture all by itself.) The first violin was a first violin in a concert the previous evening. John played stand-up bass viol and Sandy, flute. Their granddaughter, Harriet (Deborah and Mark's daughter), played violin, as well. I had the best part of all--second row listener.
Lest you think this was some kind of family amateur night, you had better know that young Harriet is
very
good and that most of the other 30 or so musicians are professionals and most had been brought there just for the concert. Beaver Island is a rare place indeed!
Sandy
...saying, as I recall, "Do-
on
! Don't you
dare
take a picture now!"
And John (contemplating a possible alternative to the 2 hour ferry ride from Charlevoix).
And he built it all with his Swiss Army knife! (No, no. Actually, that raft is a joint project with the grandchildren.)
From Beaver Island I flew to the Michigan mainland and then southeast to Port Huron, north of Detroit, where I filed a flight plan for Sarnia, Ontario, just across the river, and (after some difficulty) got a transponder squawk code from a controller at Selfridge ANGB (used to be Air Force Base, now National Guard).
I'd been across that river many times by ferry, but this was my first crossing in my own airplane--and I was somewhat anxious about it. I had my pilot certificate, my medical certificate, my birth certificate, and all of the required papers for the airplane--even the radio license that the Canadians say is required there. (It's no longer required in the US.) The two young Canadian customs agents--a boy and a girl-- Well, they seemed
very
young. hardly bothered to look at the papers, but they did peer into all the crevices and crannies of the airplane. They also allowed me to get out of it while they were peering. Finding no contraband, they got bored quickly and let me remain in the country.
And then--there was Carol. She had been visiting her sister, Jo, and Jo's husband, Tom Schultz, who live in Wallaceburg, only about 30 km south of Sarnia.
Now, here's the one part of the whole trip that I'm sorry about. I like Jo and Tom a lot, but we hardly had time to say hello and goodbye before Carol and I had to take off for Midland, Ontario, on the Georgian Bay--to ensure that we'd arrive there before sunset.
Midland was the staging point for the 2005 Georgian Bay SeaRey Gaggle. A whole bunch of us stayed at the Best Western in town and based our SeaReys at the airport. The Gaggle lasted most of the week, and we made several sorties around the Bay.
Georgian Bay? What--you've never been there? It has the clearest, cleanest, most inviting water in all of the Great Lakes. The rockiest, too--but that just makes it all the more beautiful. Here's the Gaggle beached in a secluded cove for lunch:
One of the three minor SeaRey mishaps of the trip happened there--but showed up at the beach below. When I throttled back to land, the engine wouldn't slow down below a low cruising rpm. After one go-around, I managed to get it dowdn on the water by switching off the magnetos--the ignition. On the beach (below) I found that the throttle arm of one carburetor had been bent inward so that it jammed against another part, keeping it from closing. How did that happen? I never found out--but suspect that someone must have lost his or her balance while wading during lunch and fell against the throttle arm. It was an interesting little adventure.
A shipwreck:
Follow the leader! There are three SeaReys ahead of me, down low.
This was dubbed "The Hole In The Wall." We flew through it at about 20 feet altitude, where it was probably two wingspans wide.
After the Gaggle Carol and I stayed with the Gaggle organizer, John Dunlop, and his wife Ellen in Shelburne, Ontario, northwest of Toronto.
Then John and Carol and I flew to Dave and Lynn Edward's place near Picton, right on Lake Ontario. Here we are, approaching Dave's SeaRey ramp:
The Edward's house, on Turtle Cove, an arm of Lake Ontario, near Picton.
The Turtle Cover "Gaggle" at dinner--Lynn Edward, Carol, Don, Dave Edward, John Dunlop, Dave King, Carol King.
Carol took the train back to her sister's and I flew east toward the Thousand Islands.
This is Boldt Castle. Someone told me the history of it, but mainly it's just a really cool-looking place. You can see it at water level from the town of Alexandria Bay, NY.
From there I was on a pilgrimmage--to Hammondsport, New York, where Glenn Curtiss flew the world's first amphibious seaplane on Keuka Lake, one of the Finger Lakes. I wanted to visit the Curtiss museum and, well, just to settle in for a while on the waters of the lake and see if I could maybe get some feeling of how Curtiss might have felt about flying seaplanes there.
I flew south down the lake at about 200 feet. The lake is shaped like a Y. This is looking toward the stem, with the west branch behind the hill to the right. Hammondsport is around the bend at the center, at the very bottom of the Y.
I landed on the water, lovered the landing gear, and taxied up onto a beach. A few people came over to talk about the airplane--and then suddenly this lovely Lazair ultralight appeared overhead and began turning tight circles.
The Lazair landed and the pilot taxied to shore to have a chat. It turned out that he was Dale Kramer--THE Dale Kramer, the
designer
of the Lazair.
Lazairs are legal ultralights--but they have two engines, an inverted-V tail, and transparent skin. They were sold as a kit until the mid-'80, when the insurance problem put Kramer and Cessna and most other manufacturers out of the small airplane business.
Kramer asked what I was doing there. I told him about the pilgrimage. He invited me to fly back up the lake three miles to his house--said he'd drive me to the museum.
Well! Of course!
So in a few minutes, the SeaRey was drawn up on the beach in front of the Kramers' house, with the Lazair anchored just offshore.
A few minutes later I was flying the Lazair--and what fun! It handled easily and intuitively, and the twin 18 hp engines gave it enough power to climb at probably 500 feet per minute, although that's only a guess because the only instrument on the Lazair was a simple airspeed indicator. It was a lovely experience--flying as close to
waterbird
as is possible with gasoline engines.
That evening Dale, Carmen, her father and sister took me along for a dinner cruise on the Keuka Queen, and I slept in their RV.
The next morning we visited the museum--and saw, among many other things, this lovely old mahogany Curtiss seaplane:
And visited the museum's restoration workshop. Here's an early 20th century airplane builder's toolkit, with Kramer and a museum volunteer:
And something you don't find in just any museum--parts for Curtiss' June Bug and the famous WW I Jenny.
Finally I had to take my leave of Hammondsport and head south toward Richmond. The weather was quite hazy again, making the flying "interesting" over the mountains, but I managed to see this in south central Pennsylvania:
Here it is again, with some of the haze filtered out:
I'd driven through that tunnel on the Pennsylvania Turnpike many times, but had never been able to imagine this view of it before--had no idea that the ridge was so steep and sharp on top. Flying really does change your perspective.
By the way, did you figure out in Part 1 what has five eyes and runs south?
Yes? Okay! Then you realized that it's misleading to
write
that joke. It's easier when you just say it. Now (with that hint in mind):
What's the longest pencil in the world?
And so I got back home again, 2400 nautical miles better off than when I left, three weeks earlier.
Apology: I've left out
most
of the trip,
a lot
of the fun, and
many
of the interesting people whose company I enjoyed. Sorry! This is already far too long for any web page, and besides, it's time to get ready for another trip.
Go back to Part 1
.
(Opens in its own window. This window will stay open, too, to economize on bandwidth.)
Or...
Back to "Learning Flying"
My home page .